LPS Foodlube Sugar Dissolving Fluid
We all eat. There are lots of restaurants and we have lots of food processing plants also. These facilities with all their stainless steel fasteners, fittings, regular federal inspections and general aggressive attitude toward good maintenance can be great customers for you.
When prospecting food processors you may want to mention Sugar Dissolving Fluid. It is something many food processors can use and may not be that familiar with. Soft drink companies, bakers etc. all use sugar and sugar can cause messes.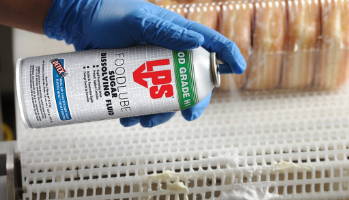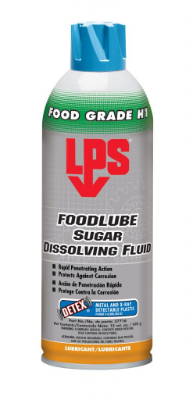 LPS® FOODLUBE Sugar Dissolving Fluid is a food grade lubricating release agent that rapidly dissolves and removes sugars from application surfaces to ensure components remain fully operational. It leaves a light, durable film on the surface to protect against corrosion and resist further sugar build up. FOODLUBE Sugar Dissolving Fluid is NSF® H1 registered for incidental contact with food, making it ideal for use in food and beverage industries with stringent standards.
Rapidly dissolves and removes sugars and fondants from applications commonly found in food and beverage facilities. (I had to look-up fondants. They are thick, creamy sugar pastes used as a base in many candies.)
Leaves a light, durable lubricating film on the surface to prevent new accumulations of sugar.

Provides short term corrosion protection on exposed metal surfaces.

Offers a wide temperature resistance of 41°F to 203°F (+5°C to +95°C).

NSF® Registered H1.

DETEX – Metal & x-ray detectable plastic components.