A- Turn push button to on position by turning counter clockwise, a solid red line will be showing on top. Press to ignite torch. If torch does not light, a second push is sometimes required.
B- Kill switch will extend when the torch is ignited. To turn off torch, press kill switch.
C- Adjust flame using the air and gas flow control. Note the + and – indicates the flow of gas.
D- Adjust flame intensity by rotating air valve clockwise.
E- Fill torch with appropriate fuel from the bottom. Hold torch upside down, press nozzle of fuel into refill valve for approximately 5 seconds. Be careful not to press valve too hard, you risk getting valve stuck. If this happens, press the valve on the torch again to depress it.
Please refer to instruction booklet that is included with further instructions and warnings.
HOW TO ATTACH INCLUDED ACCESSORIES TO BUTANE TORCH
Tools needed: • Phillips head screwdriver • Pliers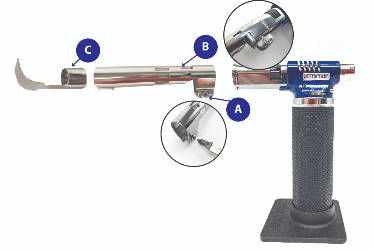 1- Unscrew & remove the phillips head screw & nut. A
2- Open gap width by prying with a screwdriver.
3- Place section B on torch
4- Using pliers, squeeze the bottom of B together & re-attach the phillips screw and nut. Tighten by hand.
5- Insert C into the end of B and rotate accordingly.