What is a bonded abrasive?
A resin bonded abrasive is a grinding or cutting tool composed of abrasive grains which are held tightly together by a bonding agent and typically reinforced with a woven material. Within the bonded abrasives category are grinding and cutting wheels, as well as "stones" in a variety of shapes and sizes.
Main Components Of Resinoid Bonded Abrasives
Abrasive Grains
Abrasive grains, sometimes referred to as grit, are particles of man-made compounds. The chemical structure of the grains determines the physical properties such as the shape and sharpness of each particle along with its hardness and friability (the propensity to break down). Common grain types used in making bonded abrasives include:
A – Aluminum Oxide – A tough blocky shaped grain used for cutting metals and other high tensile strength materials without excessive fracturing
C – Silicon Carbide – A very hard and very sharp abrasive suited for non-metallic materials such as concrete
Z – Zirconium – A very fine, dense crystalline grain which can be used for rugged stock removal
SG – Ceramic – A unique ceramic aluminum oxide that is two or three times tougher than standard aluminum oxide
Bonding Agent
The bonding agent that holds the grains together determines the resistance of the wheel.
Reinforcement
The reinforcement material provides strength to operate the abrasive product at the marked maximum RPMs and to withstand lateral pressure that is applied during use. This critical element, unseen to the naked eye, determines the structural strength of the product.
Combining The Components
During the manufacturing process, these three components are combined to form an abrasive tool. The grains and bonding agents are measured, combined, and then pressed in an automated hydraulic press. The items are then cured in temperature controlled ovens.

---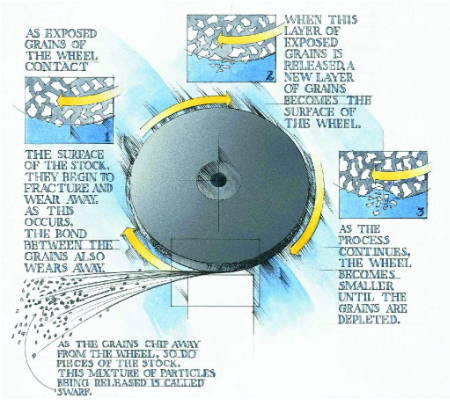 Common Occurrences With Grinding/Cutting Applications
As a wheel is grinding and/or cutting, some situations may occur with the application such as glazing or loading. Here is a description of each of these occurrences and some possible solutions.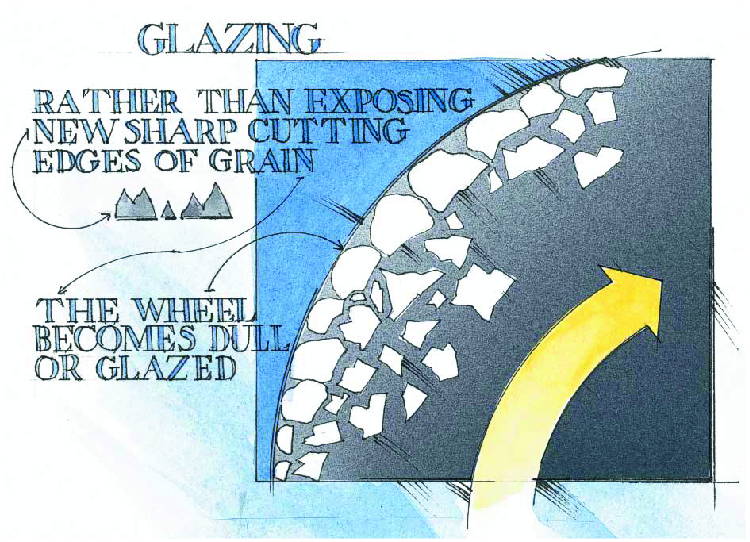 Solutions To Glazing
– Dress the wheel for a temporary solution
– Use a softer bond and/or coarser grit wheel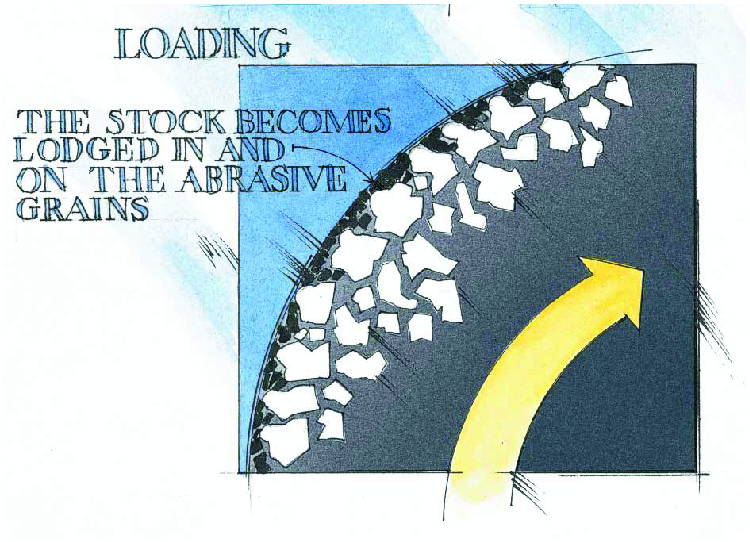 Solutions To Loading
– Dress the wheel for a temporary solution
– Use the correct wheel for the application
---
This is an example of a label that can be found on United Abrasives' wheels. We feel it is important to include as much information as possible on our labels so the end user has the pertinent information needed to operate the wheel. All of our labels are baked on the wheels during the manufacturing process so the label remains intact throughout the life of the wheel.
---

All abrasive wheels are breakable and therefore care shall be exercised in handling and storage to prevent damage. The following rules, which are based on experience, shall be observed:
Handle wheel carefully to prevent dropping or bumping

Do not roll wheels (hoop fashion)

Use trucks or other suitable conveyances to provide support and protection in transporting all wheels which cannot be carried by hand

Suitable racks, bins, drawers or boxes shall be provided to store the various types of wheels used

Abrasive wheels should be stored in a dry area not subject to extreme temperature changes since some bonds may be affected by excessive humidity and temperature differentials

Racks should be located as near as practical to the grinding location, but never where there is danger of damage from passing trucks, crane handling equipment or excessive vibration

Please refer to the Safety Guide accompanying the product and on page 162 of this catalog.
ANSI Standard Marking System
The following chart is an example of the ANSI standard marking system for identifying grinding wheels and other bonded abrasives.

Bonded abrasive wheels have different configurations depending upon the tool the wheel is used on and the desired end result. Below are the configurations that a wheel can have:
---
Cutting & Grinding Application Chart – How To Use This Chart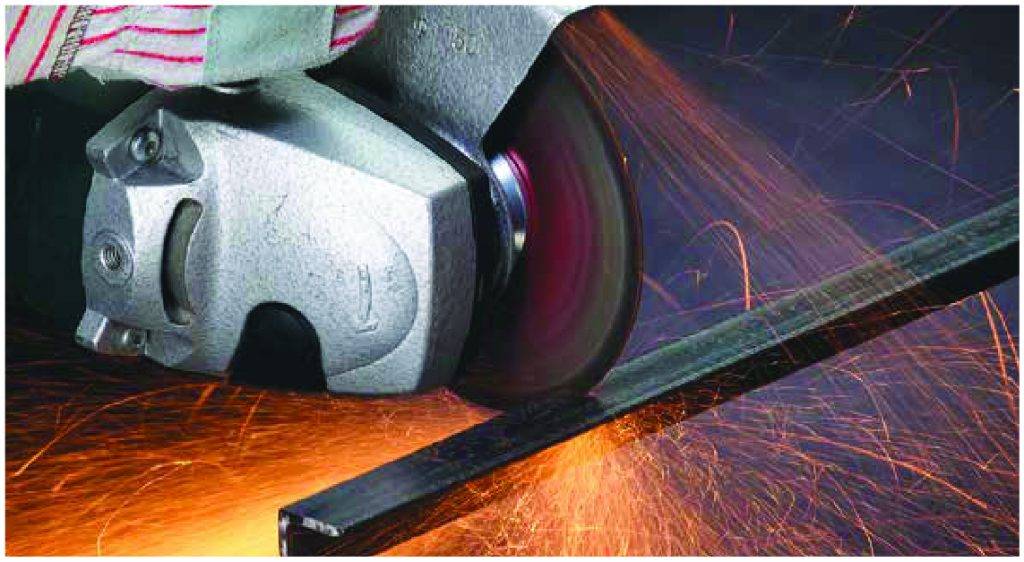 This chart should be used as a reference to match wheel to application. Following these steps will help you utilize this chart to choose the wheel that will best suit your needs.
1. Select the material you will be using based upon the choices at the top of the chart.
2. Determine what you want to do to this material?
• Are you cutting?
• Are you grinding?
• Are you cutting and grinding?
• Are you finishing?
3. What tools do you have available?
4. Once you have followed these steps, select the wheel that will best suit your needs and turn to that page to see more specifications on that product.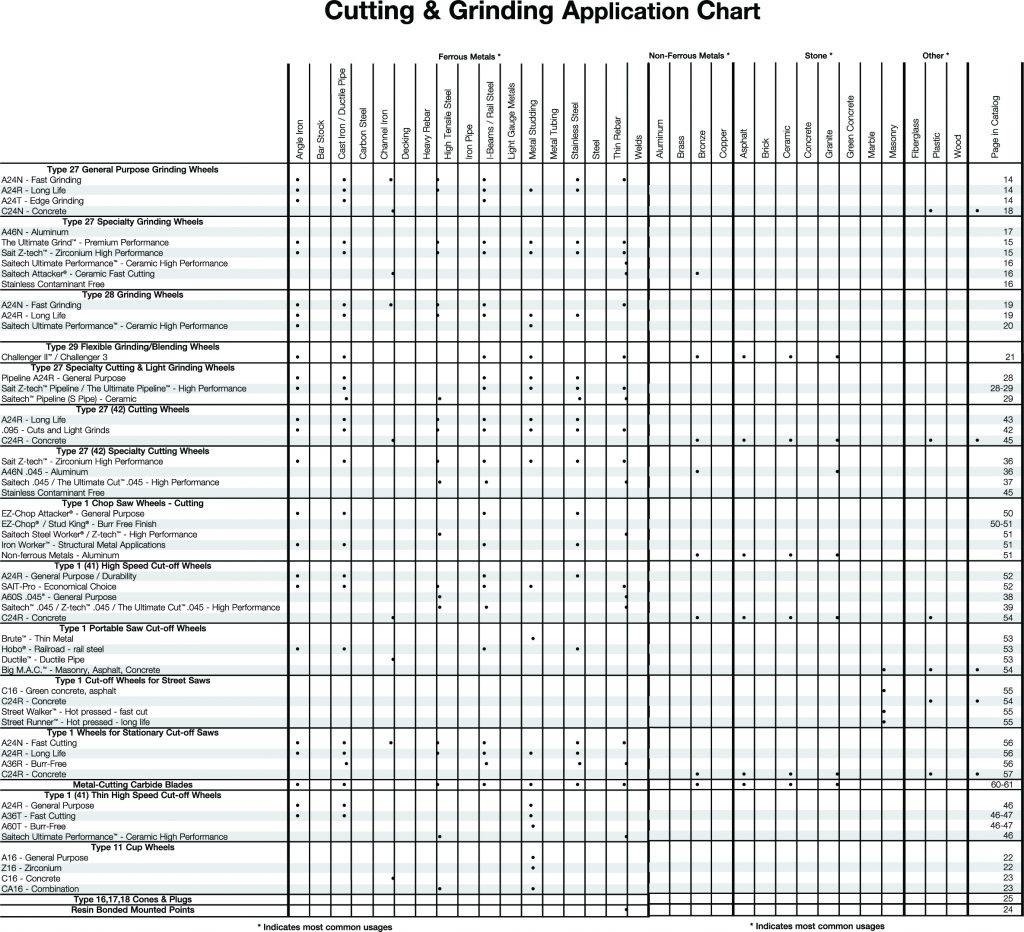 ---
Exclusive Super-Lock™ Hub
Super-Lock™ combines a mechanically interlocked transversed key lock system with a unique two-part bonding system to give it superior performance capabilities. Other manufacturers use hubs that depend only on two-part epoxy which can fail in many instances due to poor surface preparation, improper curing conditions, incorrect ratio of catalyst and epoxy, or the quantity of epoxy material applied.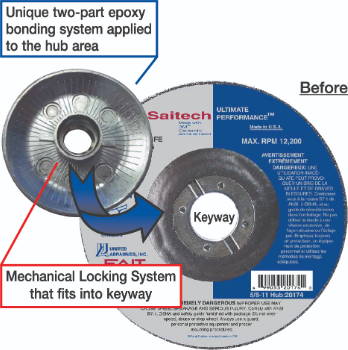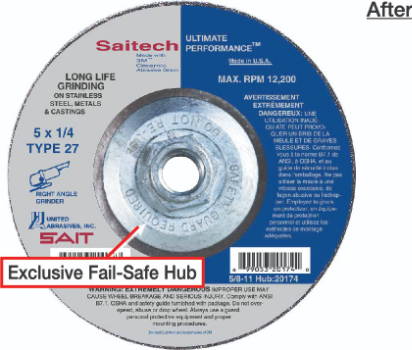 Unique in the industry
The United Abrasives Super-Lock™ system is our exclusive, fail-safe throw-away hub assembly. This is a unique hubbing system that is used on Type 27 and Type 28 grinding and cutting wheels where hub mounting is preferred.
Unsurpassed Performance
The rotational torque placed upon wheels can vary based on material being removed and pressure that is applied. While the chemical bonds that other manufacturers use can fail, the Super-Lock™ Hub ensures the stability of the hub-to-wheel connection.
Patented
The Super-Lock™ Hub system is so safe that it was originally protected by United States patent #4,541,205. United Abrasives is the only manufacturer to utilize this outstanding hub system.
Use on Type 27 and Type 28 Wheels
The Super-Lock™ Hub System is available on 4-1/2″, 5″, 6″, 7″ and 9″ Type 27 and Type 28 depressed center grinding and cutting wheels. Turbo 5″ x 1/8″, .045″ wheels, .090″ wheels, .095″ wheels and flap discs do not have Super-Lock™ Hubs but use a non-key-way hub with the same unique two-part bonding system.