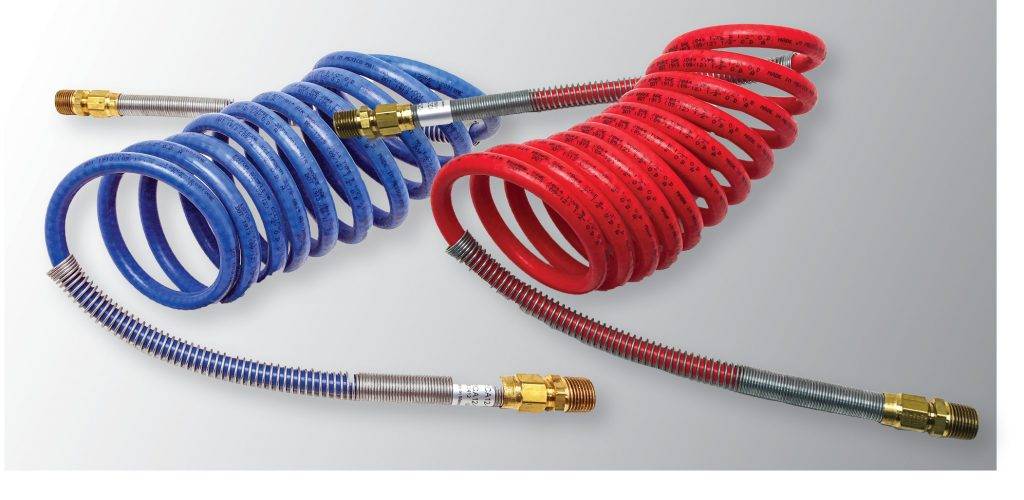 Applications
Articulating connections for air brake line systems (connections between towed and towing motor vehicle).

Tractor-to-trailer air connections used in extremely low temperatures.
Construction
Utilizes Synflex® Eclipse™ Air Brake Tubing patented construction (Pat. No. 6,670,004)

100% polyamide construction with polyester yarn reinforcement

Brass end fittings with corrosion resistant spring guards
Temperature Range
Synflex Eclipse Coil Air Products stay flexible in a wide temperature range: -65°F to 200°F (-54°C to 93°C).
Standard Compliance
Meets SAE J844, Type 3B and DOT-FMVSS 106 (49 CFR 571.106).
Features / Benefits
Superior Abrasion
Resistance Abrasion tests show that Synflex Eclipse significantly outperforms rubber and Nylon11. As a result, Synflex Eclipse Coils have a longer life in the harshest environments.
Excellent Return and Coil Memory
Fast recovery from extension reduces tangling on low cab mountings.
Enhanced Flexibility and Extension
Synflex Eclipse Coils have improved flexibility over traditional nylon coils and require less force to extend. This translates into easier installation and less strain on end connectors, especially at low temperatures.
Flow Performance
The improved flow performance of Synflex Eclipse Coils over traditional nylon and rubber tractor to trailer connections enhances brake timing performance.